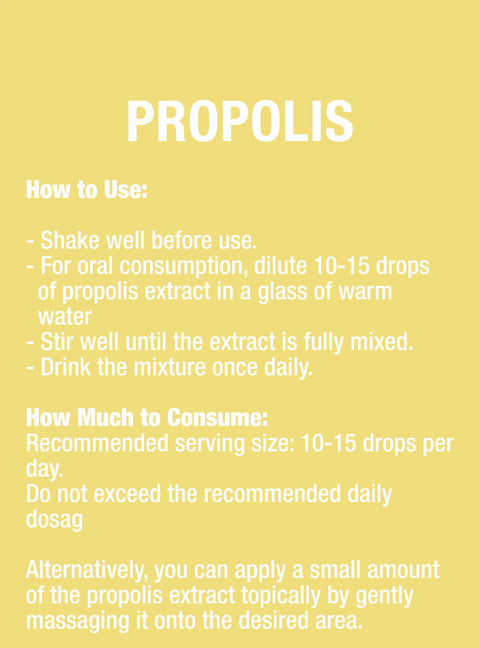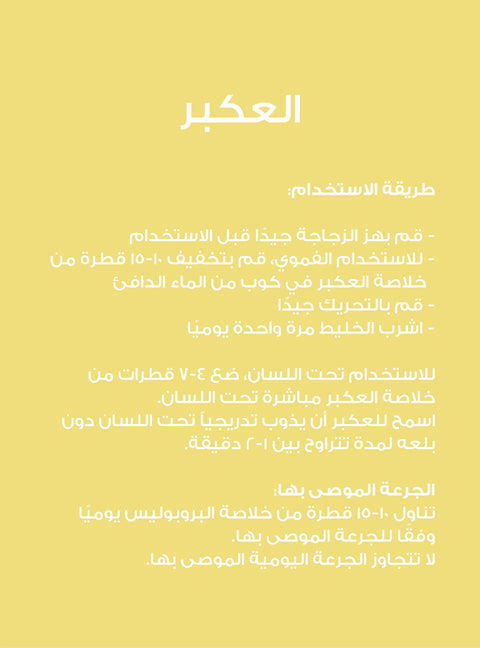 Zenergie
Propolis 10g
6.400 JD
8.000 JD
you save 1.600 JD
Nutritional information
Did you know that honey isn't the only thing that bees make? Bees also produce a compound called propolis from the sap on needle-leaved trees or evergreens. When they combine the sap with their own discharges and beeswax, they create a sticky, greenish brown product used as a coating to build their hives. This is propolis. Propolis and its extracts have numerous applications in treating various diseases due to its antiseptic - anti-inflammatory - antioxidant - antibacterial - antimycotic - antifungal - antiulcer - anticancer and immunomodulatory
properties.

DOES PROPOLIS BOOST OUR IMMUNITY?
As Bee Propolis is made from a tree's immune system and a bee hive's immune system - it also works to benefit human immune systems.

HOW TO USE PROPOLIS?
7 - 20 drop of propolis can be placed underneath the tongue everyday.
14 drops of propolis can be mixed with hot water.
Propolis can be used externally on the skin to heal and recover damaged skin and even reduce joint pain.