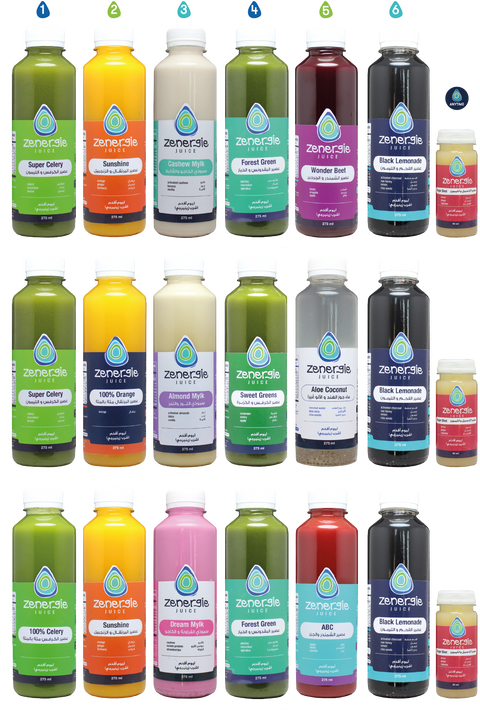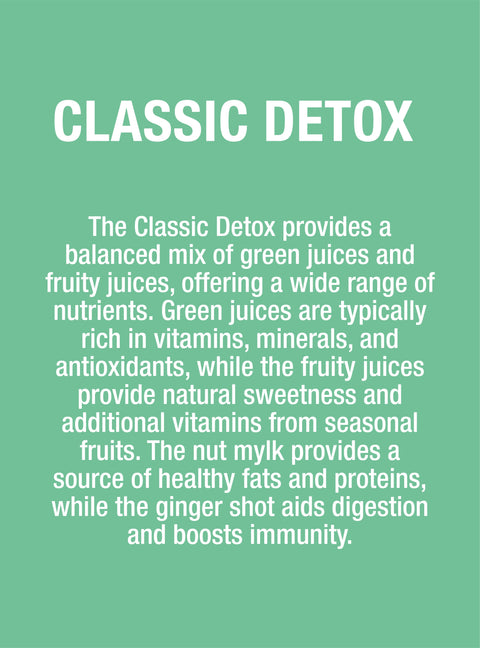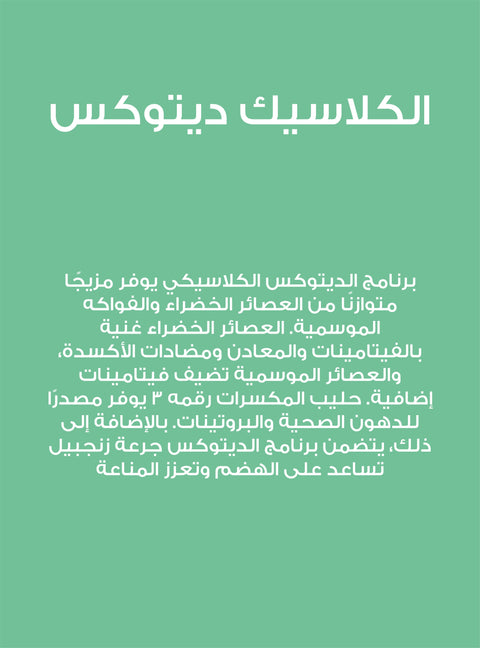 Zenergie
3 Day Classic Detox
36.000 JD
45.000 JD
you save 9.000 JD
Nutritional information
Total calories per day: 500 kcal
X6 (275mll) Juices
x1 (60ml) juice
Welcome to the 3 Day Classic Detox program by Zenergie ! In this detox we have incorporating every one of our most popular juice flavors, offering a great balance of enzymes, vitamins, and nutrients. Get ready to feel the difference internally and externally.
WHY DO THE DETOX?
1. A new experience! So why not?
2. Rests and resets your mind and body
3. High dose of chlorophyll, a natural immune booster
4. Helps get rid of the "bloat"
5. Allows you to experience mindfulness about what you put into your body
6. Better sleep and mental clarity
7. Skin glow
8. Improves digestion and eliminates toxins, leading to a happier and healthier gut
9. Helps naturally increase energy levels
10. Charge your body with antioxidants, vitamins and nutrients derived from fresh, raw and real ingredients.
3 DAY DETOX INCLUDES:
x9 Seasonal Juices (275ml)
x6 Green Juices (275ml)
x3 Nut Mylk (275ml)
x3 Vitality shot (60ml)
THE DETOX ITSELF:
1. As soon as you get your Zenergie package place it in the fridge.
2. Swap your regular food plan with our Zenergie Detox package. All juices have been numbered for you, please drink them accordingly.
3. On your detox day : enjoy salads, soups, raw vegetables, whole fruits if needed ( refer to the detox instruction sheet included in the package for more details)
4. Space out your juices over 12 hrs and leave 2 - 3 hours between each juice
5. Slow down the rhythm of your day and give your body the chance to heal itself as nature intended.
6. Let's get you #Zenergized
GENERAL INFORMATION:
Each Juice has been created with its own unique qualities and health benefits. Zenergie aims not only to
aid in weight loss but to improve your health and wellbeing. Our team has been working hand in hand with nutritionists in order to fully provide you with the entire spectrum of healthy living. Backed up with over 10 years of research, educational courses and working hand in hand with the earth ie. turmeric plantations, maca root plantations, high altitude mountaineering, organic farming, cocoa plantation and so much more.