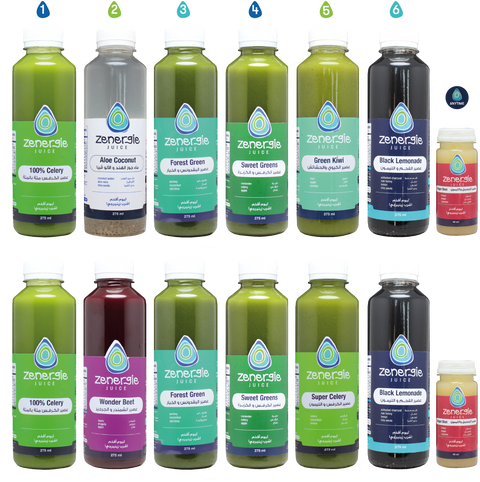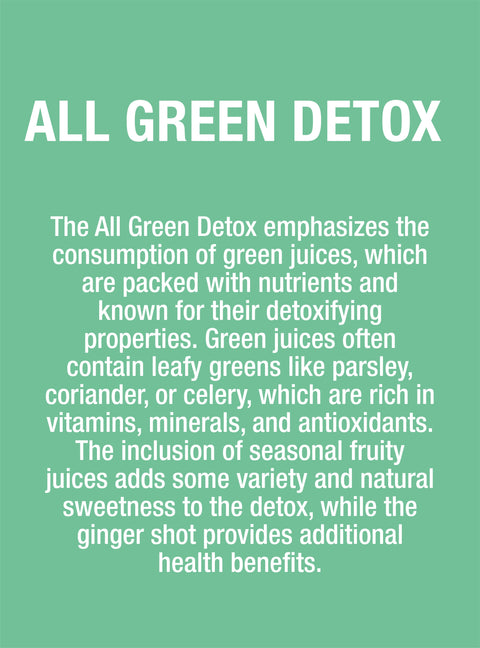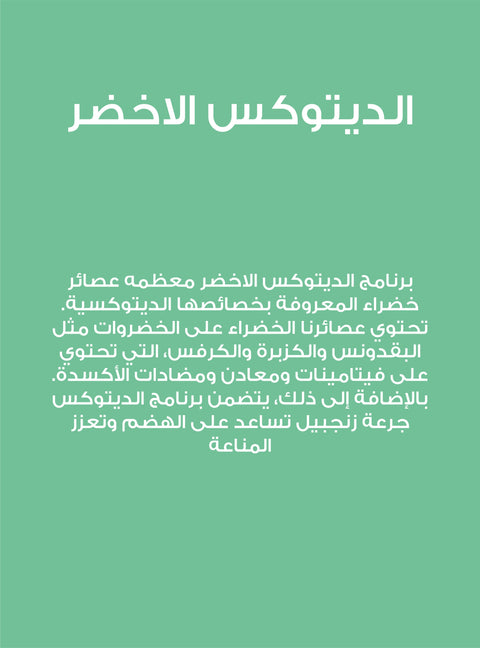 Zenergie
2 Day Green Detox
20.800 JD
26.000 JD
you save 5.200 JD
Nutritional information
Total calories per day: 400 kcal
X6 (275mll) Juices
x1 (60ml) juice
If you're looking for a detox that emphasizes vegetables and green juices, you might be interested in the All Green Detox from Zenergie Juice. This program is lower in calories and fructose (found in fruits) than other detox programs we offer. The All Green Detox contains a range of ingredients that can help your body release toxins, including spirulina, coriander, parsley, celery, and ginger.
2 DAY ALL GREEN DETOX INCLUDES:
x14 Juices in Total
x4 Seasonal Juices (275ml)
x8 Green Juices (275ml)
x2 Vitality shot (60ml)
WHY TRY THE ALL GREEN DETOX?
- Lower in calories due to the use of fewer fruits.
- Can help balance blood sugar levels.
- Provides a high dose of chlorophyll.
- Can enhance your natural glow.
- Helps rehydrate your liver.
- May leave you feeling more energized.
We recommend trying the All Green Detox if you have previous experience with juice cleanses.
THE DETOX PROCESS:
- Upon receiving your Zenergie package, place it in the fridge.
- Replace your regular food plan with our Zenergie Detox package. Each juice is numbered for your convenience; please consume them in order.
- On your detox day, you may also enjoy salads, soups, raw vegetables, and whole fruits as needed (refer to the detox instruction sheet included in the package for more details).
- Spread out your juices over 12 hours, leaving 2-3 hours between each juice.
- Take it easy and allow your body to naturally heal itself as nature intended.
- Let's get you #Zenergized!